Hello and welcome to the Maltese Islands!
Practical Information About Malta
Population : 400,000
Capital City : Valletta
Official Languages : Maltese and English
Driving : On the left of the road and the minimum age for drivers is 18 years. All passengers should wear seatbelts and motorcyclists should wear helmets.
Beaches : Mellieha Bay, Gnejna Bay, Armier Bay, Golden Bay, Ghajn Tuffieha Bay, Pretty Bay, Blue Lagoon, Ramla Bay & Xlendi Bay.
Electricity : 220/240 Volts. The three-pin rectangular plug system is used, as in Britain.
Time : Central European Time +1
Currency : Euro
Climate : Warm, dry Summers and mild, humid Winters. Temperature averages 14ºC in Winter and 32ºC in Summer.
Valletta: Malta's Capital City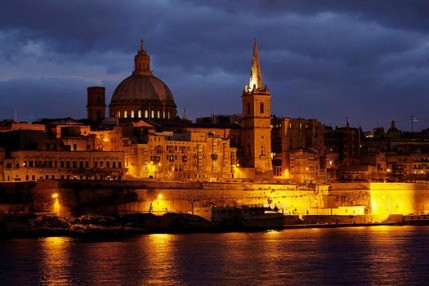 Valletta owes its existence to the Knights of St John, who planned the city as a refuge to care for injured soldiers and pilgrims during the Crusades in the 16th century. Until the arrival of the Knights, Mount Sceberras, on which Valletta stands, lying between two natural harbours, was an arid tongue of land. Despite measuring 900 metres by 630 metres, Valletta boasts over 25 churches, a testament to the centuries-old ingrained Catholic faith of the Maltese. In fact, the first building that went up in the city is the Church of Our Lady of Victories along South Street, which commemorates the lifting of the Great Siege.
The Three Cities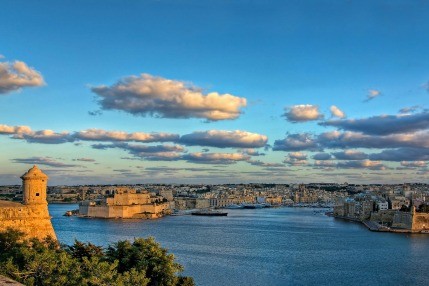 The Three Cities offer an intriguing insight into Malta and its history. Left largely unvisited, these cities area slice of authentic life as well as a glimpse into Malta's maritime fortunes. The Three Cities can rightly claim to be the cradle of Maltese history, as Vittoriosa, Senglea and Cospicua have provided a home and fortress to almost every people who settled on the Islands. Their harbour inlets have been in use since Phoenician times: the docks always providing a living for local people, but also leaving them vulnerable when Malta's rulers were at war. As the first home to the Knights of St. John, the Three Cities' palaces, churches, forts and bastions are far older than Valletta's.

Mdina: The Silent City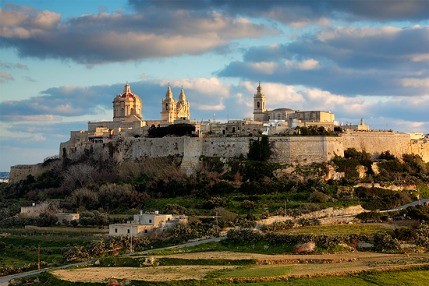 Mdina, Città Vecchia, or Città Notabile, is the old capital of Malta. Mdina is a medieval walled town situated on a hill in the centre of the island. Punic remains uncovered beyond the city's walls suggest the importance of the general region to Malta's Phoenician settlers. Mdina is commonly called the "Silent City" by natives and visitors. The town is still confined within its walls, and has a population of just over three hundred but it is contiguous with the village of Rabat, which takes its name from the Arabic word for suburb, and has a population of over 11,000.
Discovering Gozo, Malta's Sister Island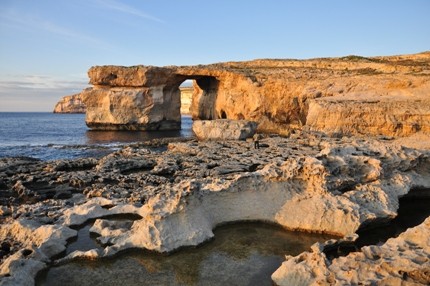 Gozo, which is a three hilled island, is greener and more picturesque than Malta. No to miss out!
1. The Ggantija Temples that stand at the end of the Xaghra plateau, facing towards the south-east. This megalithic monument is in fact two temples.
2. Calypso's Cave, is said to be the cave where Odysseus was kept as a love prisoner for seven years by the nymph Calypso. Calypso's cave lies near the stunning beach of Ramla Bay; the view is magnificent!
3. Xlendi Bay, a popular beach and an ideal diving site.
4. The Citadella, a historic fortified city which lies in the heart of Victoria.
5. Ta' Pinu Basilica, a Roman Catholic Parish Church located 700 metres away from the village of Gharb and allows visitors to enjoy beautiful views of the area.
Public Gardens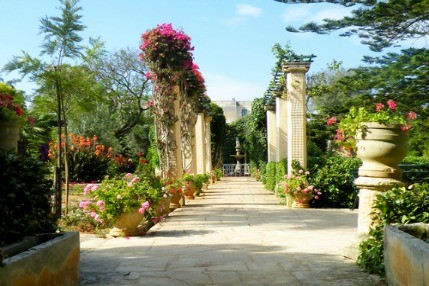 Malta is better known for its sun,sand and sea,but it also has some lovely mature gardens in great locations. These are ideal for a leisure-lystroll in the shade of century old trees at any time of the year. The gardens that can be found in the Maltese Islands are numerous but relatively small. What they lack in size they make up for in historical and cultural content, which when pieced together, relate the happenings of their inhabitants from the early 15th century to pre-sent day. The largest and most popular of Malta's gar-dens, even with locals and especially families, are the San Anton gardens adjacent to the President's palace, with its evocative fountains, ponds, trees and flora.
Marsaxlokk: Malta's Fishing Village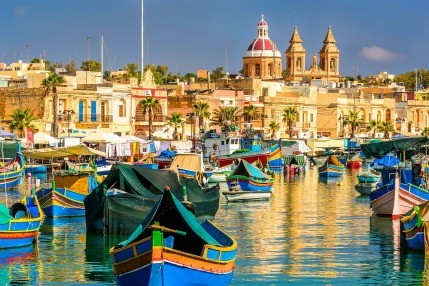 Marsaxlokk is a traditional fishing village located in the south-eastern part of Malta. This enchanting village is set around an azure bay. Traditional fishing boats painted in bright colours bob in the harbour, and the quays are spread with brilliantly coloured fishing nets. Most of Malta's fish supplies are caught by fishermen coming from this port. Swordfish, tuna and popular 'lampuki' are caught in abundance between spring and late autumn. On weekdays, the catch is taken to the fish-market in Valletta, but on Sundays fish is retailed by fishermen in the open on the quay.
Neolithic Malta
Dating back to 3500 to 2500 BC, the Megalithic Temples of Malta are some of the oldest structures in the world. As the name suggests, they are a group of stone temples older than Stonehenge and the Egyptian pyramids. Excellently preserved, they were rediscovered and restored in the 19th century by European and native Maltese archaeologists. There are several temples scattered around, many of which appear on the UNESCO World Heritage List. Some temples worth a visit are: Hagar Qim and Mnajdra Temples, at Qrendi; Ggantija Temples in Gozo; and the Hypogeum of Hal Saflieni, and underground prehistoric burial site.
Malta's Top 10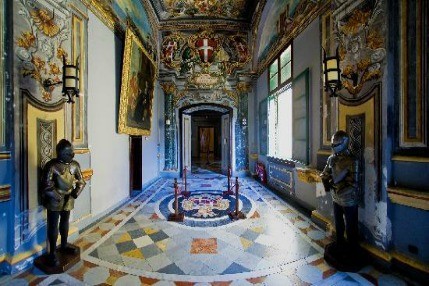 1. Grand Masters's Palace
2. St John's Co-Cathedral
3. Hagar Qim and Mnajdra Temples
4. Imdina & Rabat
5. Palazzo Parisio, Naxxar
6. Marsaxlokk
7. Hal-Saflieni & Hypogeum
8. Ic-Citadella, Gozo.
9. Dwejra, Gozo & Blue Grotto, Malta.
10. Comino
Comino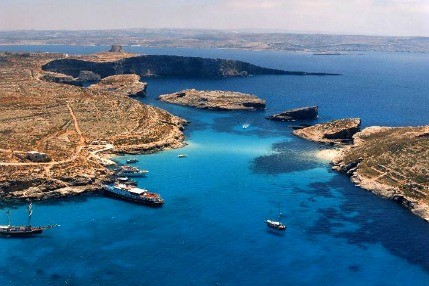 Comino is a diminutive but paradisiacal island with a permanent population of just four or five. The Romans introduced the cumin that gives Comino its name, and its spicy scent, mingled with thyme and other aromatic herbs, lingers headily in the air. It takes just a couple of hours to go around the island, taking dramatic cliffs and rocky covers where other visitors – even in the height of summer – rarely penetrate. Comino's most famous natural attraction is the dazzling Blue Lagoon with the charming crystal clear blue waters.
The Diving Experience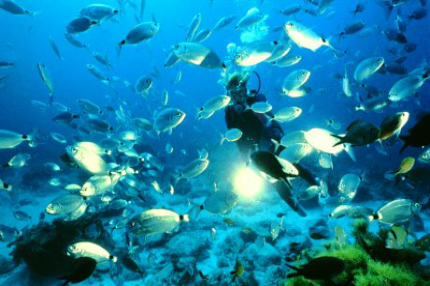 The Maltese Islands' clear blue Mediterranean sea is ideal for scuba diving. All three Islands offer some unique diving experiences with an abundance of reefs, caves and wrecks that make diving here some of the most interesting in the Mediterranean. The calmness and clarity of the sea makes for excellent visibility whilst the risk of encountering dangerous fish is extremely low, creating the ultimate conditions for first time divers and beginners. For the more experienced divers, there are plenty of challenging dives to choose from.
Fun-Filled Family Holiday
The Maltese Islands are great for family vacations. Malta, Gozo and Comino offer a wonderful setting for a holiday in which parents and children can experience the thrill of an action-packed trip or just relax and enjoy the surroundings. Malta has been named one of the safest countries in the world, so you can put your mind at rest and bask in relaxation. Various theme parks, such as the Mediterraneo Marine Park and Splash and Fun Water Park offer a fun-filled day for kids and adults alike. Interacting with animals at the Petting Farm in Ta' Qali or taking a ride aboard the Melita sight-seeing train in various locations around the island also provide an enjoyable experience for a family trip full of fun.
Traditional Maltese Food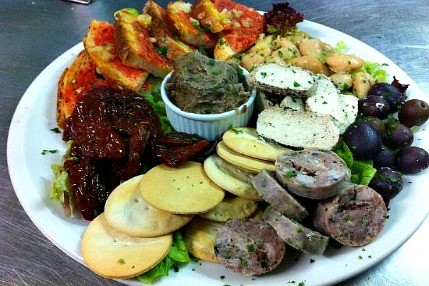 Start with a glass of smooth local wine and flavour it with the local dishes of stuffed olives, some ġbejniet (local sheep's cheeses), zalzett tal-malti (coriander flavoured Maltese sausage), a few galletti (Maltese crackers) and some bigilla (broad bean pate) served with Maltese bread and olive oil, and you'll taste heaven on a plate! Most locals start off their Sunday breakfast with pastizzi (savoury ricotta or pea filled pastries) which make a perfect match with a hot coffee or tea. Summer days at the beach are highlighted by the Maltese ħobz biż-żejt, a popular snack made from a thick slice of crusty Maltese bread, rubbed with juicy, red tomatoes and topped with mint, a little onion, sheep's cheese and anchovies all soaked in delicious green olive oil; a taste of sunshine, a taste of Malta.
Maltese Festa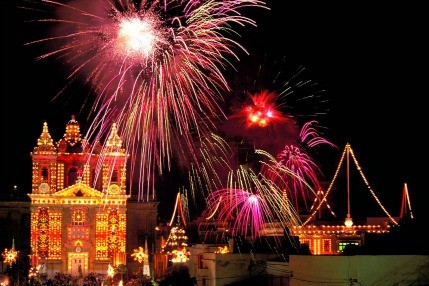 Largely rooted in rural folklore and religion, Maltese customs are still clearly visible in everyday life, most notably, are the village festa. This celebration of the local village's patron saint started over five centuries ago, during the reign of the Knights of St. John, and till today, brings with it a colourful cacophony of Mediterranean boisterousness. The feast days are the life of the Islands and some holy days are actually national holidays, such as the feast of Santa Marija in mid-August. Others, such as the harvest festival of Mnarja at the end of June, are steeped in folklore.
Leisure Time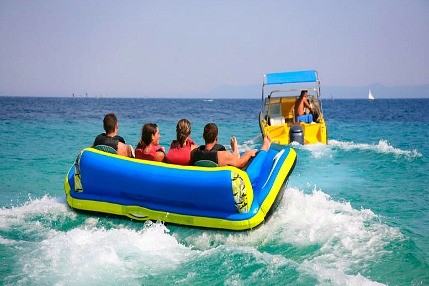 If a day of doing nothing and sunbathing idly on the beach is not your cup of tea, many beaches offer watersports - from windsurfing to sea-kayaking and jet ski hire. If you're up for an adventure, you can try paragliding, where no experience and no work is needed. The only thing you have to do is to sit back and enjoy the ride while the rest is handled by the experts. Or else try water-skiing or wakeboarding, where you will be towed behind a purpose built water skiing boat and a qualified water skiing instructor will give you all the water skiing advice you need. Other watersports available include: waterpolo, canoeing, fishing, yachting and sailing. Also one can even opt for a day trip on a skipped boat or even try the self driving boats available all around Malta and Gozo.

Sunny Beaches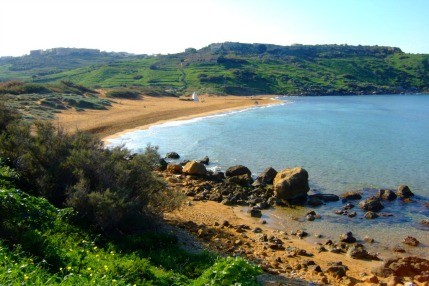 Malta has beaches for everyone, from wind-surfers to sunbathers. Choose from golden sand, red sand, rocks, blue lagoons and even inland seas. Some beaches and rocky shores are off the beaten track, but worth seeking out for their seclusion. The island is dotted with idyllic inlets, coves and bays with beautifully rugged and natural surroundings. With Malta's climate, beach life lasts well into October. Enjoy water sports and activities like wind-surfing, jet and water skiing, parakiting and fun rides. You can hire equipment from beach cafes or shops nearby. The main coastal resorts and larger sandy beaches are in the northern part of Malta. Malta's most popular beaches are Mellieħa Bay, Għajn Tuffieħa and Golden Bay. For smaller, quieter beaches, try those at the tip of Malta, overlooking Gozo - Paradise Bay and Armier. In Gozo, the most beautiful beach is Ramla l-Ħamra, a large beach of unusual red sand nestling by countryside. Gozo and Comino offer plenty of out-of-the-way rocky inlets with clear waters and perfect snorkeling.
Where are they located?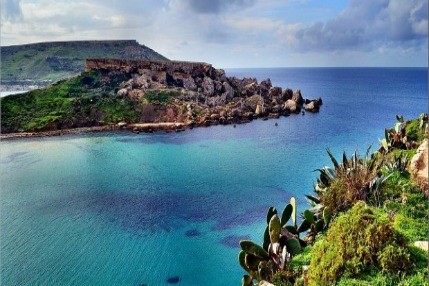 Northern Malta
Anchor Bay (rock) Riviera Bay (sand) Mellieha Bay (sand) Paradise Bay (sand) Armier Bay & Little Armier (sand) Gnejna Bay (sand) Mgiebah Bay (sand) Sliema & St. Julian's Coast (rock) Fomm ir-Rih (pebble) Golden Bay (sand) Mistra Bay (pebble) St. George's Bay (sand)
Southern Malta
Ghar Lapsi (rock) Peter's Pool (rock) Pretty Bay (sand) St. Thomas Bay (sand/rock) Blue Lagoon - Comino
Gozo
Dahlet Qorrot (rock) Marsalforn (sand/rock) San Blas (sand) Dwejra (rock) Mgarr ix-Xini (pebble) Wied il-Ghasri (pebble) Hondoq ir-Rummien (pebble/sand) Ramla Bay (sand) Xlendi Bay (sand/rock)